Replaceable UV bulbs
In our offer you will find all light bulbs for the most commonly used lamps in non-destructive testing. These bulbs are available in stock.
UV bulb 100W E27 and E29

Suitable for all types of 100 Watt handheld lamps. Each bulb is tested in our calibration laboratory and has permanent marking with serial number. By that we guarantee high quality. Before ordering ensure if your lamp has E27 [UVSP00351] or E29 [UVSP00356] lampholder - see picture below, it will allow you to avoid replacement of unsuitable goods because of wrong choice.
---
Spectroline 2F958, UV filter
Glossy dark UV filter diameter 5" (127mm) [UVSP00352]
---
Spectroline 2F350, UV filter
UV filter diffuse dark diameter 5" (127mm) [UVSP00353]
---
UV bulb 125W
Suitable for all types of lamps with 125 Watt technology [UVSP00357].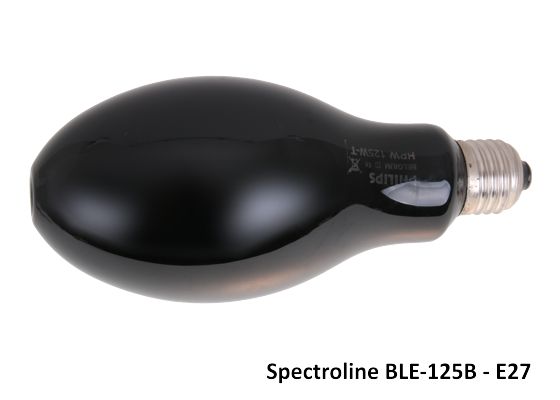 ---
UV bulb 35W HID
Suitable for all types of high-intensity discharge lamps (HID technology) [UVSP00551] [UVSP00551_PHIL].
---
UV bulb 400W
Suitable for all types of stationary lamps including UF 400 [UVSP00651].
---
UV fluorescent bulbs
UV-C fluorescent bulb (254nm), 15W [UVSP00811] and UV-A fluorescent bulb (365nm), 15W integrated UV filter [UVSP00812].
---
UV bulb 50W
Bulb 50W for lamps of c-100 1.generation [UVSP00813].
---
UV fluorescent bulb
for MiniMAX lamps, dual UV-A and UV-C, 4W [UVSP00814].
---
Filters
UV filter transparent diameter 5" (127mm) [UVSP00820].
---
UV bulb 100W
100W bulb with base E27, premium quality, higher luminosity, much faster starting, long life time [UVSP00830].
---
Spectroline UV-5D DeGERM-inator, UV-C lamp
Accumulator powered sterilizing UV lamp 1 x 5W (254nm), including charging adapter [UVSP00806].
It eliminates a wide range of pathogenic bacteries and viruses - within few seconds! It protects against such viruses as E.Coli, Salmonella, Staphylococcus, Streptococcus, Listeria, H1N1 flu virus and others! It desinfects mobile phones, toilet seats, handles, sinks, radiators, remote controls, PC mice and keyboards, plastic toys, pens and many other commonly contaminated surfaces. The lamp also desinfects drinking water.

---
Spectroline FP-365, protective filter for TRITAN
Protective filter with rubber frame and special glass for lamps of TRITAN 365 series [UVSP00840].
Should you have any questions, please call us or use contact form at the bottom of the page.